Why Multi-Unit Budget Blinds Franchisee Julia McAfee Chose to Expand Her Business During the Pandemic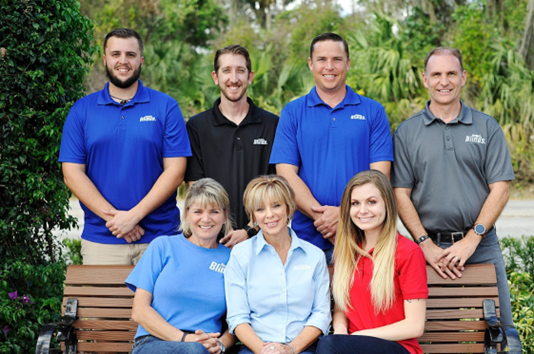 McAfee owns four locations of the window covering franchise and nearly doubled her sales overall compared to the previous year.
Julia McAfee is no stranger to the world of design. After working in the commercial sign industry for 20 years, she decided to pursue a career that would combine her creative skills with business ownership. That's when she found Budget Blinds, a 1,300-unit window covering franchise. Now, she's a multi-unit owner with the brand who continued to grow her business during the COVID-19 pandemic, opening up her fourth location with the franchise amid the uncertainty of 2020.
How She Discovered Budget Blinds
After stumbling upon a Budget Blinds that was already in operation, McAfee knew she had to find out more about franchising opportunities with the brand. She quickly went through corporate training and purchased a franchise that had already been in business for 10 years.
"The location already had such a great reputation," she said. "And in the electric sign business, I was already involved with design, color and layout. So I thought, I already have the design element down, and I love the flair of Budget Blinds. It's a different industry, but I can use the skills I already have."
Now, as the owner of four Florida locations with Budget Blinds in Oviedo, East Orlando, Port Orange and Titusville, McAfee's skill set has only expanded.
Why She Chose To Become a Multi-Unit Owner
When McAfee began franchising with Budget Blinds, she didn't hesitate to put a stake in the ground and claim the territories she wanted.
"My first two locations came as a package deal, but we had some grey (open) areas we were servicing," she said. "I knew if the corporate team started marketing in that area, then someone was going to buy it. Since I was already surveying most of the area, I went ahead and purchased it."
For McAfee, multi-unit ownership is not all about money. She wanted to make smart investment choices that would pay off over time.
"Typically, it will be a year or two before you start seeing significant income," she said. "I knew I wouldn't make money on these locations for a while, but I wouldn't lose any either. It was still a smart decision because I could afford the hit on them."
The result was exactly as she predicted — McAfee nearly doubled her overall sales from last year and finished the year $100,000 ahead of the previous year.
Why She Decided to Purchase Her Fourth Territory During COVID-19
The majority of that growth occurred during an uncertain year for business owners. But despite the economic impact of COVID-19 and the challenges that came with it, McAfee forged on and purchased a fourth Budget Blinds territory.
"When COVID hit, we shut down for less than two weeks. I was determined we were a business that was essential," she said. "Our phones started blowing up. The business for us was so strong. So I said there's no reason not to buy it because the pandemic will pass eventually."
According to McAfee, although her locations did face some financial challenges, she ultimately ended up with stronger sales numbers than the previous year. In fact, the brand as a whole experienced record growth in 2020, with more than 100 franchise territory exchanges. And it has no plans of stopping that growth in 2021.
"We're excited that multi-unit franchisees like Julia are continuing to grow with the brand," said Jonathan Thiessen, CDO of Home Franchise Concepts, Budget Blinds' parent company. "Budget Blinds is on pace to have another milestone year in 2021 as its franchisees across the country continue to thrive."
McAfee proudly encourages potential franchise owners to consider Budget Blinds this year. "It's a phenomenal business. Their support system is amazing," she said. "And once you get into the role, it's a lot of fun. I would recommend Budget Blinds to anyone."
For more information on franchising with Budget Blinds, please visit https://franchise.budgetblinds.com/.