Specially Adapted Homes Give Severely Injured Veterans Security In Uncertain Times
For the past year in the shadow of COVID-19, Homes for Our Troops (HFOT) has faithfully continued its mission to build and donate specially adapted, mortgage-free homes to post-9/11 severely injured Veterans. As a corporate sponsor since 2014, Budget Blinds® and its franchise owners have been right there, installing our exclusive Signature Series® faux wood blinds in all the homes that HFOT builds. While the pace of building has been slower under pandemic precautions, HFOT, Budget Blinds, and our manufacturing partner, Springs Window Fashions, who graciously donates the blinds, have held steadfast to fulfilling HFOT's mission to Build Homes and Rebuild Lives. To date, HFOT has placed 315 Veterans into forever homes, enabling them to focus on recovery in safety and security.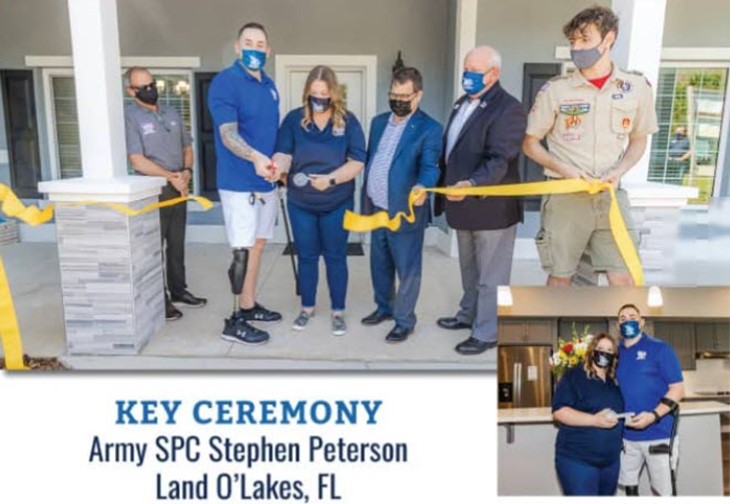 The highlight of the day is when the ribbon is cut and the Veteran, pictured here is SPC Stephen Peterson, takes possession of their new home.
Homes designed to meet needs
HFOT designs its homes with over 40 special adaptations to help restore freedom, independence, and safety for Veterans who navigate everyday life very differently since their life-changing injuries, including multiple amputations, full- and partial-paralysis, traumatic brain injury (TBI), Post-Traumatic Stress Disorder (PTSD), and impairment of vision and hearing. Adaptations allow for safe access and functionality from a wheelchair, on prosthetic legs, or with crutches anywhere in the house or garage.
A specially adapted master bath is life-changing with roll-in shower, accessible therapy tub, and motorized blinds to easily control light and privacy.
Favorite adaptations are the roll-in shower, accessible kitchen with roll-under countertops and accessible appliances, hands-free automatic doors, widened doorways and hallways, no raised thresholds, and NO STAIRS with one-level living. Budget Blinds contributes beauty, comfort, and years of care-free operation with custom faux wood blinds. Important benefits include durability and functionality, light and privacy control, increased energy efficiency all year long, and the ultimate convenience of one-touch-control motorized blinds in the master bath for added safety.
Budget Blinds' franchise owners are proud to help make HFOT homes the forever homes our military heroes so richly deserve.
Meet Army Sergeant First Class Henry Escobedo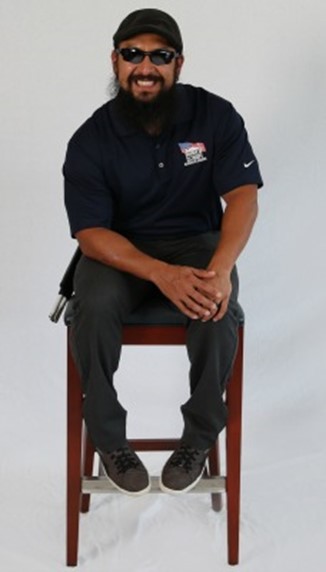 SFC Henry Escobedo came to the United States from Guatemala when he was nine and joined the Army at 19 to give back to the country that had "given him everything." During his first deployment in 2003 in Iraq, he received a concussion that caused headaches and dry eyes. He left the Army for a brief time but returned as an Active Guard Reserve Soldier and deployed again in 2010. His medical condition and vision worsened until, in 2011, he was diagnosed with Leber's Optic Neuropathy and declared legally blind, with minimal light perception. He was just 29 and thought his world was over. But the Army also brought Henry his wife, Mayra, they met while serving together and he shares, "Mayra has stuck with me through thick and thin, she is my light."
The specially adapted HFOT home in Pearland, TX, is close to family and will provide an environment of safety and comfort for Henry, Mayra, and their children, Jairo and Jade. Henry says, "Knowing that I can provide my family with a roof over their heads, a secure and safe place, and a home where I can become independent, is a dream come true." The openness of the home and abundant windows will maximize his minimal light perception and Mayra says that knowing where everything is will enable him to do things for himself. Henry believes in the power of the home: "I honestly think the home will bring an immense sense of happiness and joy not only to me but to my family as well. I will be empowered knowing there is always hope and people that care. I will be more enthusiastic and look forward to finishing goals I once started." In 2020, he received his master's degree in clinical medical health counseling. Of HFOT he says, "Homes for Our Troops honestly has been a blessing, and may God give them strength to continue doing what they're doing."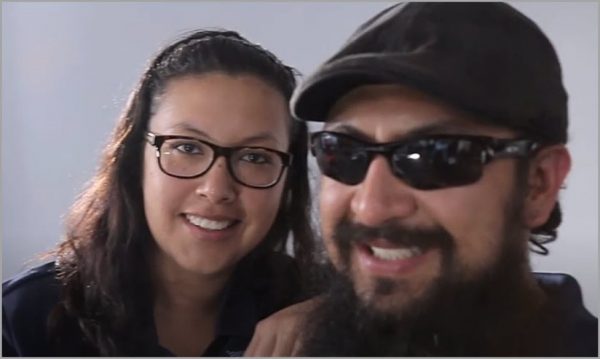 Jason Wade, franchise owner of Budget Blinds of Friendswood, TX, donated his time and expertise to his first HFOT home by measuring and installing faux wood blinds throughout the house for SFC Escobedo and his family. Covid restrictions prevented an in-person Key Ceremony when the house was awarded, but supporters could participate via Zoom meeting. The beauty and convenience of the blinds will enhance the home and their lives for many years, providing privacy, lighting control and comfort in every room. Enjoy the video of Henry and Mayra telling their story here.
Meet Army Specialist Stephen Peterson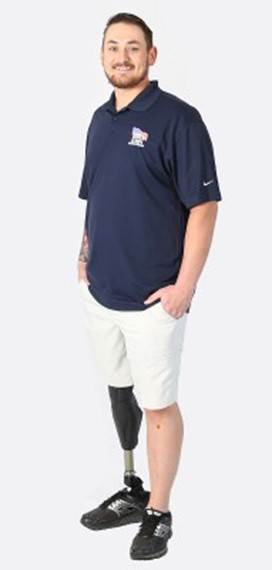 SPC Stephen Peterson joined the Army right out of high school "to serve, do something positive in my lifetime and for my country, and to build a solid foundation for my future." But his career dreams were cut short in 2011 during his first deployment in Afghanistan when an improvised explosive device (IED) exploded under the vehicle he was riding in. He lost his right leg and sustained fractured hips and tailbone and traumatic brain injury. Treatment at Brooke Army Medical Center in San Antonio gave him his prosthetic and skills to integrate back into civilian life. He met his wife, Brittany, on a dating site and says he guilted her into going out with him on Veterans Day. "Told her that I had no one to go out with me for the freebies, so she agreed to see me. Went to the aquarium, then dinner, then to a movie, and the movie led to a bar and we've been together ever since." Now they are joyfully expecting their first child this summer.
The mortgage-free, specially adapted HFOT home in Land O'Lakes, FL, will help alleviate Stephen's uncertainty and worry of providing for his family. The no-barriers design will make daily life easier and let him comfortably be in his wheelchair at home and rest from using the prosthetic. He shares, "The biggest thing I look forward to would be the ADA compliance so I can have freedom and independence; the walk-in shower, the really big tub, and being able to cook." He plans to go back to school and would like to start a nonprofit to assist other Veterans. In his free time, he plays sled hockey and enjoys paddling, surfing, skiing, playing guitar, photography, and their dogs. Stephen and Brittany say HFOT and its donors and supporters are truly a blessing and the foundation for helping Veterans. "I am extremely fortunate to have people like you who care so deeply. Nothing I can say can really measure how truly thankful I am."
The Budget Blinds of North Tampa team and franchise owners, Mike and Adriane Wonderlin, happily accepted their third HFOT home. They measured and installed the blinds, worked Volunteer Day putting in landscaping, had the biggest American flag on their van for the escort motorcade, and install manager, Bill Tumelty, spoke at the Key Ceremony when the home was awarded to SPC Peterson. An Army Veteran himself, Bill shared what was on everyone's hearts:
"First, I would like to say that it makes my heart feel good to see everyone here today for such a great cause. I was first introduced to HFOT on a Volunteer Day a few years ago for Sergeant Moore's home which is just down the street. Being an Army veteran myself, I jumped at the opportunity.
I remember showing up that day with about 15 volunteers which included some children under 10 years old getting out there and pitching in. I was overwhelmed at the show of support from our community and our local veterans volunteering that day. Unfortunately, the second time around for Corporal Reed's project, and as with this project, due to Covid our group size was limited. That, however, did not keep anyone down. We had a great time working and meeting several folks including having SGT Moore out there getting his hands dirty. Everyone was laughing, joking and, of course, sweating as we laid a lot of sod! I was proud at the amount of people that still showed up to volunteer despite everything.
This is my third time volunteering and second time speaking. I am honored to speak on behalf of Budget Blinds to honor the sacrifices Specialist Peterson has made for our great nation. This morning we got to tour the Peterson's beautiful new home. We hope you enjoy the window treatments we have provided. At Budget Blinds, we love our remote controls, so we had to motorize the Peterson's window blinds above the master bathroom tub. We hope this home is filled with many years of love, laughter and great memories. From all of us at Budget Blinds, we thank you for your service and sacrifice!"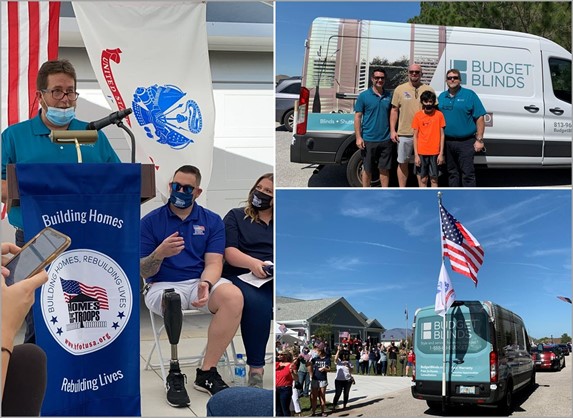 See Stephen and Brittany share their story by clicking here.
Update your home for spring
Welcome spring with new window treatments to refresh and revitalize your home with shutters, blinds, natural woven shades, cellular shades, and drapery in colors, styles and finishes for every budget. Call 866-525-8054 today or go online at budgetblinds.com to find a Design Consultant near you and schedule a free, in-home or virtual* consultation to discuss the endless possibilities with Budget Blinds.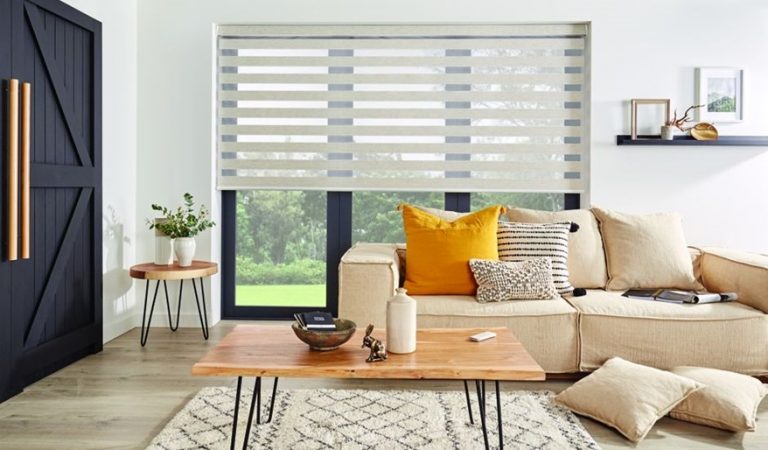 Sheer shades with sleek, modern lines feature opaque and semi-opaque fabrics for a refined look that lets you control light and privacy
*Virtual consultations may not be available at every location