Home Franchise Concepts (HFC) is home to three thriving franchise brands, Budget Blinds®, Tailored Living®, and Concrete Craft®. Celebrating 25 years, HFC made history on Veteran's Day 2017 by awarding a U.S. Marines Corp veteran a franchise business package valued at more than $300,000. Former USMC Staff Sergeant Sohel Gilani was the recipient of a Concrete Craft franchise plus two weeks of training and first-year operating capital as the result of HFC's 2017 new veteran initiative, There's No Place Like Home Veteran Partnership and Giveaway.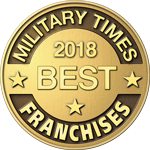 This was just the latest in HFC's legacy of supporting veterans, that wins the Military Times Best award year after year. For 2018, Military Times ranked Budget Blinds as #2 and Tailored Living as #3 out of 53 franchises they recommend for veterans seeking to own their own business.
Start a business with the best
If you're a veteran and you've been considering starting a business to be your own boss, a franchise opportunity within the HFC family of brands may be the perfect answer. Military Times does an in-depth evaluation of every facet of the franchise businesses they review, including company culture, entry costs, military discount, support, benefits, franchise performance, and investment quality. As numbers 2 and 3, you can be confident that the HFC franchise opportunities are spot-on for serious consideration.
Budget Blinds

– custom window coverings, including blinds, shades, shutters, and drapery styles for indoor/outdoor application, residential and commercial—the largest window coverings franchise in North America
Tailored Living

– whole home custom storage solutions as well as industrial-strength PremierOne® and PremierTrax garage flooring options for home and business—the largest home organization franchise in North America
Concrete Craft

– custom decorative concrete overlays with staining, stamping, and resurfacing for indoor and outdoor floors and vertical surfaces, including walkways, driveways, decks, patios, and fireplaces—the only decorative concrete franchise available

Award-winning business models
In addition to the Military Times ranking, HFC brands are award-winners every year in their space in the home improvement/home services industry.
For 13 years, Franchise Business Review's annual

Franchisee Satisfaction Awards

has been the only franchise ranking based on

actual franchisee satisfaction and performance. Again, for 2018, both Budget Blinds and Tailored Living are in the top 200. And who is better to judge the viability of a franchise opportunity than the franchise owners who work the business every day?
Entrepreneur® just released their annual Franchise 500 Ranking for 2018, and Budget Blinds and Tailored Living were in the top 27 percent. For 39 years, Entrepreneur has been helping individual entrepreneurs and small business owners profitably navigate the world of business. Read more

here.
HFC's franchise business models have been turning out successful franchisees for 25 years, with over 1,400 franchised territories in the U.S. and Canada. Key elements of the award-winning, proven business models include:
Low initial fees, low overhead
Discounts

for qualified veterans
Flat royalty and marketing fees
In-depth training and ongoing support
High-quality products through strong vendor alliance programs to keep you ahead of the competition
Coordinated national advertising efforts and local area marketing tools and support
Robust social media, including Facebook, Pinterest, Twitter, and Instagram
Nationally-known brands with good reputations for quality and service
Harness your expertise to change your life
You may not be sure how your skill sets can translate to business ownership, and possibly not even put a name to those strengths and skills you gained through military service. HFC has worked with hundreds of veterans and has clearly identified those attributes that help make veterans into successful franchise business owners.
Leadership Skills:

After years of running day-to-day operations and hiring, training, and managing military staff, strong leadership skills will help with leading a team in business.
Risk Taking: Fear isn't your driver, so you're not afraid of the risk involved in starting a franchise business. With proper due diligence, you can be confident about the work and commitment required for success in your chosen franchise.
Self-discipline:

The self-discipline you mastered in the military will keep you on track for business success. With a solid business model to follow and a "mission-first" mentality, you'll be able to power through whatever comes your way.
Respect for the System:

Being able to work within a prescribed system and follow protocols is part of the military mindset, and this translates successfully to working within a proven franchise system.
Teamwork:

In every endeavor of military life, you were part of a team and relying on other teams. As a franchise owner, you rely on support from Home Office teams, the expansive network of fellow franchisees, and your own hand-picked team of employees.
Time Management:

Military training teaches time management skills that will help your franchise business to flourish by managing your time wisely, setting priorities, and getting done each day what needs to be done.
Home Franchise Concepts recognizes the great value that veteran business owners bring to the franchise system and has made a concentrated effort to enable qualified veterans to become franchise business owners by offering substantial discounts to purchase any one of their franchise brands. Shirin Behzadi, CEO shares the vision:
"At Home Franchise Concepts, we strive to empower people by helping to put them in business for themselves. Helping our veterans transition into the civilian workforce as business owners is truly an honor and a privilege. Our first step is to provide significant financial incentives to empower veterans to take the next step as an entrepreneur. And, we stay with them, offering business support, ongoing training, and the tools they will need to be successful."
So, don't wait. Check out the HFC franchise opportunities today and align yourself with a company that truly cares. Call 1-800-420-5374 or go online to Home Franchise Concepts and see which brand is the best fit for you. Click here to learn more about how the HFC family of brands assists veterans with becoming independent franchise business owners.
Read the full Military Times report: Military Times Best: Franchises 2018