Contributing to a home environment that helps Veterans recover and rebuild their lives is a privilege for Budget Blinds associates and franchise owners across the country. Since 2014, Budget Blinds, supported by our manufacturing partner, Springs Window Fashions who donates the blinds, has been installing our exclusive Signature Series® faux wood blinds in each house HFOT builds. It's a tangible way to say, "Thank you for your service and sacrifice!"
Custom window blinds provide universal appeal
The classic look of custom blinds brings beauty, functionality, and convenience to each HFOT home. Chosen for their versatility and durability, white faux wood blinds are the ideal solution for homes that are built from coast to coast, in every climate and area of the country. Impervious to all kinds of weather, they will continue to deliver valuable benefits for many years to come.
Provides light and privacy control in every room.
Reduces heat gain in summer and keeps out cold air in winter, saving up to 30% on

energy bills.
Gives the beauty of real wood but with

moisture-resistant

qualities making them appropriate for every room.
In the master bath, one-touch-control

motorized blinds

provide additional safety.
Blinds can be personalized with drapery panels or valances.
Meet Air Force Staff Sergeant Keith Sekora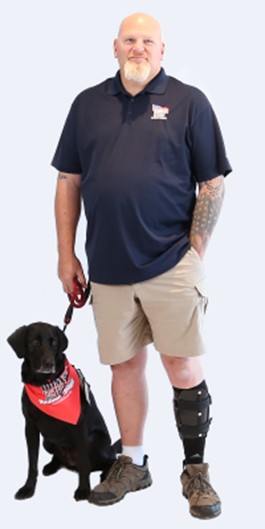 Air Force Staff Sergeant Keith Sekora has been serving his country since 1988, including 10 years with the Army before leaving to become a police officer. Three years later, after the 9/11 attacks, he enlisted in the U.S. Air Force Reserves, compelled to serve. On deployment in Afghanistan in 2010, Keith was struck by a suspected bullet and he says, "It felt like somebody hit me in the back with a baseball bat." He was knocked to the ground, but his ballistic vest prevented the projectile from penetrating. Assessed by a medic as with pain but no bleeding, he carried on. But within the next 32 hours, he suffered four strokes, headaches, dizziness, numbness in face and hands, and couldn't walk due to a torn artery. Traumatic brain injury resulted, causing partial paralysis, vertigo, memory loss, double vision, headaches, insensitivity to temperature, and mobility issues. He spent a year in Walter Reed learning to walk, talk, and use his right arm and that's when he met his wife, Andy, online. She shares, "He was a happy, positive person despite his injuries and that's what drew me to him."
Married in 2014, they are looking forward to the new, specially adapted HFOT home in Port Orchard, WA, with Andy's 12-year-old daughter, Olivia, and his married son, Kyle, who moved to the area to be close by. The one-level, wheelchair accessible floor plan is a big safety factor to prevent falls and the shower with digital temperature control will prevent burns. Grateful to HFOT's donors and supporters he says, "Being able to live my life fully independent puts my mind at ease. This home gives me independence, security, and the freedom of knowing my family is taken care of. It helps not just one Veteran; it serves the whole family."
A new passion since his injury is archery, discovered by accident when he got on the wrong bus at an adaptive sports camp. One broken jaw, a shoulder brace, and four years of shooting got him qualified as a member of the national Paralympic Archery team. His determination is contagious, and he says, "If I stop now, then the guy that shot me wins. And I refuse to let him win." Keith also teaches archery to disabled and able-bodied youth and adults and hopes to build an archery range on the new property.
For franchise owners Greg and Hillary Allen of Budget Blinds of Port Orchard, this is their second HFOT home. They didn't hesitate when notified of a new build in their area and were happy to donate time and expertise to ensure accurate measuring and professional installation of the faux wood blinds for SSGT Sekora and his family. Greg shares, "This project is a great way to give back to those that give so much for our country. It's so great to be part of such an honorable program that really makes a difference in people's lives. Thanks for the opportunity!" The success of the HFOT partnership is only possible due to the willingness of Budget Blinds teams across the country to help make every Veteran's house into a home with the beauty and functionality of custom window coverings.
Keith and Andy share their adventure and you can listen in by clicking here.
Meet Marine Staff Sergeant Matthew Wheeler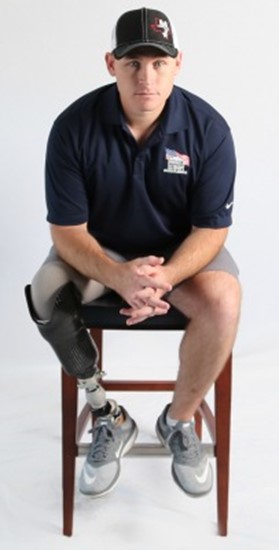 Staff Sergeant Matthew Wheeler decided at 13 that he wanted a military career after watching a documentary. His family history primed him for military service as well, with a grandfather in the Army for 30 years and both parents in the Air Force, so he added a new twist by becoming a Marine. During his fourth deployment in Afghanistan in 2011, his patrol was crossing a canal. He turned to assist a struggling corpsman and stepped on an improvised explosive device (IED), resulting in traumatic brain injury, a broken right leg, and shattered heel. After years of unbearable pain, Matthew was diagnosed with complex regional pain syndrome, a condition that causes extreme sensitivity, burning pain, swelling, and stiffness. After several unsuccessful treatments for the pain, he had his right foot amputated and wears a prosthetic.
Dad to three kids, Jackson, Maycee, and Campbell, they are all looking forward to the freedom and accessibility of the specially adapted HFOT home in La Vernia, TX. Matthew prefers to use a wheelchair at home and the one-level floor plan will allow him to safely care for his children and tuck them in at night. The mortgage-free home will enable him to finish up his MBA and pursue a PhD. He works as Senior Account Executive for Hotsey Pressure Washing Equipment and enjoys church activities, mentoring teenagers, and helping with Patriots and Heroes Outdoors, an organization that provides therapeutic hunting and fishing trips for Purple Heart recipients and military with service-related injuries.
Of HFOT and its donors and supporters, Matthew has overflowing praise: "This organization provides a lot of freedom for people who fought for freedom. A very big thank you that holds a lot more magnitude than a couple of words. Life can sometimes be discouraging, but it is so much easier to rise above those obstacles knowing how many people support us and are rooting for us. You truly have no idea the immense impact you have on us. We are so thankful for all of you!"
This is the first HFOT home for franchise owners Charles and DeAnn Strickland, Budget Blinds of Alamo Heights & La Vernia. They've been patiently waiting for the opportunity to give back to a deserving Veteran by measuring and installing custom blinds in an HFOT home. They participated in all stages of the build and loved every minute: "We can't say enough about HFOT. We were extremely excited when we heard there was actually going to be a HFOT home build in our territory. We attended the Community Kick Off where Charles spoke a few encouraging words to SSGT Wheeler. We worked on Volunteer Day laying grass. There was a great turnout that day and I think all the projects were completed in about four hours. We also attended the Key ceremony and it was very moving to see this family accept the keys to their home. The home was very nicely built and had some awesome features. We look forward to helping with others that come to our area."
Hear Matthew share his story by clicking here.
Get that "new home" feeling with updated window coverings
If sheltering at home is getting frustrating, one way to relieve the stress of home confinement is to transform your space. Custom window treatments from Budget Blinds can quickly give your home a whole new look with colors, styles, patterns, and textures in blinds, shades, shutters, and drapery that will breathe new life into all your rooms.
Call 866-525-8054 today or go online at www.budgetblinds.com to find a Design Consultant near you and schedule a free, in-home or virtual* consultation to explore the endless possibilities. Complete your new look with coordinating décor items like custom throw pillows, rugs, and luxury bedding for a polished look. Now is the perfect time to update your home before the hustle and bustle of the holidays … and just relax!
*Virtual consultations may not be available at every location