Does Home Depot Franchise?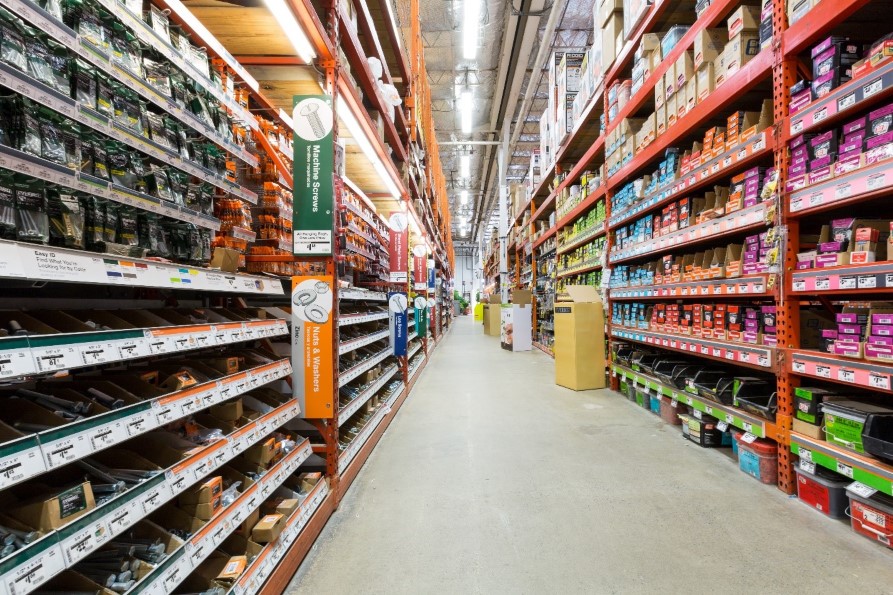 Interested in opening a Home Depot franchise? Unfortunately, The Home Depot does not franchise its stores, but there are some alternatives that you should consider.
THE HOME DEPOT'S HISTORY
The Home Depot was founded in 1978 as a new kind of one-stop shop for home services, combining a hardware store, a plant nursery, and a renovation supply and specialist source in one. Today, The Home Depot is the world's largest home improvement retailer with over 2,300 locations across North America.
Throughout its history, The Home Depot has focused on catering to professional contractors and do-it-yourself consumers with customized service. That service includes a knowledgeable staff who can guide customers on how to do everything from operating a power tool to laying tile. While The Home Depot's core business is brick-and-mortar stores, it also has expanded by purchasing online companies with a track record of strong customer focus, such as The Company Store and Blinds.com.
As of 2023, The Hope Depot is not a franchise but a corporation that is publicly traded on the stock market. Instead of being individually owned, the company stores are run by the board of directors, CEO, and the executive and senior leadership teams, with The Vanguard Group being the largest shareholder of the company at present.
WHY DOESN'T THE HOME DEPOT FRANCHISE?
The founders of The Home Depot aimed to build the largest home improvement retailer that would surpass all related competition both in size and scope. Since its inception, the size of the stores (averaging or exceeding 100,000 square feet) and number of products and services offered has far surpassed those initial goals.
The warehouse-style locations house supplies to cater to a large group of customers. Currently, The Home Depot's website attracts over 100 million users annually, and the company uses over 90 distribution centers to service its locations. Considering the vast number of items sold at The Home Depot, the variety of services offered, and the massive infrastructure that makes up a Home Depot store, franchising just doesn't make sense.
For individuals interested in owning a home services franchise, there are attainable and appealing options for both first-time owners and seasoned entrepreneurs.
INVEST IN YOUR FUTURE WITH BUDGET BLINDS
For 30 years, Budget Blinds has been giving motivated entrepreneurs the opportunity to become successful business owners with our winning home services brand. As the No. 1 custom window coverings franchise in North America, Budget Blinds provides our franchisees with comprehensive training, outstanding support, and the world-class products and business model they need to build a sustainable future.
Specializing in window coverings ensures that franchisees are involved in a sustainable and growing market that is always adapting to meet customers' needs. From things like smart window solutions to energy efficiency options — not to mention personalized aesthetic offerings — Budget Blinds offers it all.
Brands like The Home Depot do not have a monopoly on the $763 billion home services industry. Budget Blinds was recently ranked No. 15 on Entrepreneur's Franchise 500 list and was also ranked the No. 1 Home Improvement Franchise, which goes to show that prospective business owners and customers alike are turning to franchises that specialize in personalized products and services over the big-box stores.
And unlike brands that require a massive storefront, warehouse, and massive amounts of inventory, Budget Blinds was designed as a home-based, mobile model that requires little overhead, allowing franchisees to run their business with greater freedom and flexibility. With Budget Blinds, franchise owners learn everything they need to know about the consultative sales process, financial management, comprehensive local area marketing programs, and our customer management relations (CRM) system, all designed to optimize your business.
Under our parent company Home Franchise Concepts (HFC), Budget Blinds franchisees will join a consortium of other top award-winning home services brands such as PremierGarage, Concrete Craft, Kitchen Tune-Up, and more. Our leadership team is committed to supporting our franchisees and helping them become leaders in a booming and recession-proof industry.
To learn more about franchising with Budget Blinds, fill out this form and one of our franchise development representatives will be in touch soon.