How to Own an Online Franchise & Work from Home Indefinitely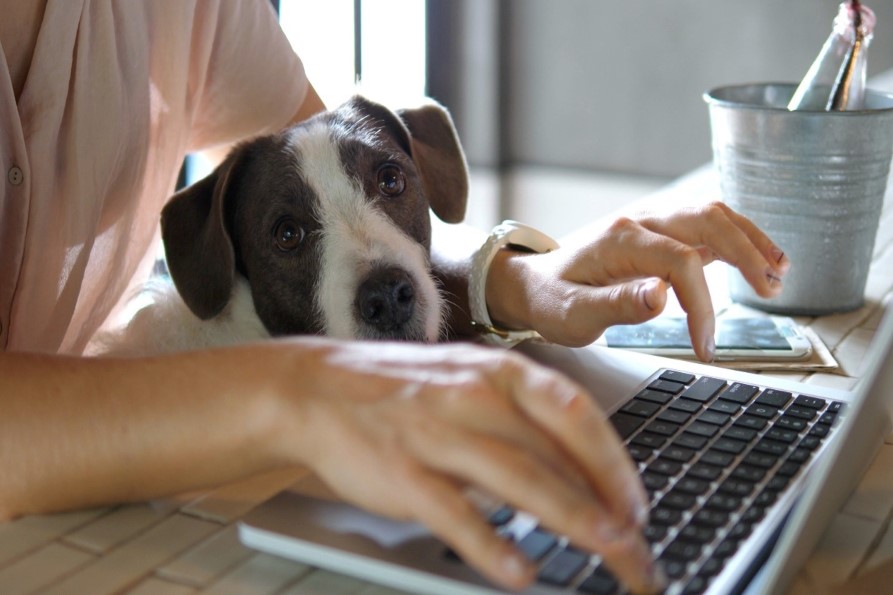 Remote work statistics show that more than 50% of the U.S. workforce wishes they could work from home. Here's why an online franchise is your best bet for work-life harmony & financial freedom.
The rise of work from home
COVID-19 pushed the U.S. workforce to a work-from-home-force nearly overnight. As time went on, more people found they liked the idea of working from their living room rather than going into the office. The Society for Human Resource Management (SHRM) found 35% of people would be willing to take a pay cut if they could work from home. If you're considering making the switch to working solely from home, you're not alone. Money talks, but so does comfort. Working from home cuts the commute, saves on gas, helps with childcare costs, and people have reported being more productive when working from home. While working from home can often mean working for someone else, there are ways to earn your own money in your own living room and achieve that coveted financial freedom so many are looking for. Now, when a large portion of the workforce is wondering how to work from home, an online franchise could be the answer
What a virtual franchise is and why it can lead to FIRE
You may have heard the term FIRE -- it refers to financial independence, retiring early. But, when you're thinking of a franchise, a brick-and-mortar business probably comes to mind –- like McDonald's or Chick-fil-A. An online franchise can be an easy and more relaxed way of heading to FIRE, alongside your other traditional investments. Here are some of the benefits:
They have lower overhead. An online business cuts out the need to have a physical location, eliminating construction costs and ongoing utilities. There are home-based, no inventory, and low overhead business models like Budget Blinds.
You still have the built-in customer base. Virtual franchise owners get the national name clout of the business and the same amount of training and support as brick-and-mortar franchises, but without the overhead of a physical location. As with any online job, your business moves with you and your internet connection. Owners can set their own schedules and work hours.
Startup and keep-up costs are smaller. Really, as long as you have an internet connection, a computer, and a willingness to learn, an online business can be yours. Because of the low overhead and initial investment, owners can usually get to work quicker. For example, a Budget Blinds franchise costs about $125,580 - $192,900, but a McDonald's franchise is upwards of $1.3 million, plus you have to factor in the amount of time it takes to build out a location. For online businesses there is also a smaller staffing need. A lower initial investment means more people can get into the business younger. Like with any investment, the earlier you start, the larger the growth potential. As your business scales, obviously more talent will be needed to help run it, but how big your business gets is up to you and the territorial needs of the franchisor.
They're ahead of the curve. As consumers become increasingly interested in shopping online, an online business will keep up with consumer demands. Statista estimates by 2025, more than 80% of shoppers will do their buying online, and currently furniture, fashion, electronics, and hobbies/toys are the most popular categories people are purchasing online. The beauty and health category seems to have the slowest growth when it comes to online shopping. Getting into a growing market is crucial for a successful home business.
Franchises can be better for work/life harmony
There's a scene from "The Office" where Michael Scott says, "When I say dance, they say, 'how high.'" How much does that resonate with you, having a boss and little control over your working life? And how many people have had actual Michael Scotts as bosses? As an employee, you're at the mercy of your boss. You work when they need you to work. You make what they set your salary at. But, as an online franchise owner, you're in charge of your schedule and finances and can achieve better work/life balance.
How to get started
So, let's get to the nitty gritty and talk about how to work from home as a franchise owner. Figure out what type of lifestyle you'll want as a business owner. That could determine the type of franchise you'll want to be involved in, or how you'll want to run your franchise. Will you want to play a more managerial or hands-off role? Will you want to be hands-on, knocking on doors, or making phone calls yourself?
Next, you'll need the capital and other financial requirements the franchisor sets. This varies based on the business, but again, online businesses are typically a lower cost option. Don't forget to look for financing, startup help, a partnership, or small business loans to help cover the cost.
Most franchises, including virtual franchises, require some form of application and screening process. Have proof of your assets, income, capital, and other related documents on hand to fill out applications.
You'll attend the training that franchisors provide to make their franchisees successful in every territory. This is crucial business knowledge that can be applied even outside the business you'll be starting. In as little as a few weeks, your online franchise can be up and running, and you can be setting your hours.
Take the first step
Budget Blinds is a growing franchise in a growing market. We're listed as the No. 15 franchise on Entrepreneur's Franchise 500 List and the #1 Top Home-Based Franchise, and we're in more than 10,000 cities across the nation. Get to FIRE with yourself in the driver's seat by requesting more information on a Budget Blinds franchise.